gcsescience.com 40 gcsescience.com
Mains Electricity - What is Earthing?
Mains electricity uses earthing as a safety measure.
Earthing prevents electric shocks from metal objects.
If the outer casing (the outside bit) of an
appliance is made of metal (a good conductor)
then it can be made safe by earthing.

How does the Earth wire make an Appliance Safe?
The earth wire usually carries no electricity.
The earth wire is connected to the
inside of an appliance that has a metal case.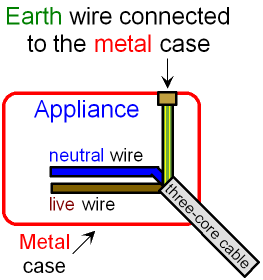 When the appliance is working correctly, the live wire
supplies the electricity which flows through all of
the components. The neutral wire completes the circuit.
If something goes wrong inside the appliance
and the live wire touches the metal case, then the
earth wire allows the electricity to complete
the circuit without flowing through the components.
In this case a very large current suddenly flows
because the metal case has a very small resistance.
The large current blows the fuse in the plug and
disconnects the appliance from the power supply.
The earth wire and the fuse together
reduce the risk of an electric shock
from an appliance with a metal case and
also protect the wiring of the circuit
from overheating and possibly causing a fire.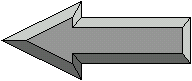 Links      Electricity      Mains      Revision Questions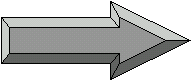 gcsescience.com        Physics Quiz        Index        Electricity Quiz        gcsescience.com
Home      GCSE Chemistry      GCSE Physics
Copyright © 2015 gcsescience.com. All Rights Reserved.